The 2016 Randolph-Macon Academy football team experienced a great amount of success this past fall and have much to be proud of. The Yellow Jackets finished with a record of 6-3 and brought home the Patriot Conference football championship. They had 12 players receive 1st team all-conference awards along with the Offensive Conference Player of the Year in Alex Ndongo-Seh '17.
The leadership on and off the field was crucial to the success of the season. Individuals were held accountable not just for their performance and work ethic on the field, but off the field as well. If somebody did not turn in a homework assignment, they could expect a teammate to inquire as to why they made such a decision. If somebody's grades were slipping in a certain subject, they would find themselves in the library, or the dorm room of a teammate, receiving help.
There were many other factors that played a role in this season's success. The skill position players were crucial and an exceptional lot who swung the momentum towards the black and gold numerous times. They were detrimental to the opposition week in and week out. Wide receivers combined for 98 receptions, 1,728 yards, and 23 touchdowns while the running backs combined for 1,398 yards and 11 touchdowns.
Every play had the potential to be a touchdown in such an efficient spread offense. If the holes weren't opening up for the run, then quarterback Corban Ruch '17 and his receivers launched an assault on the defense through the air. If the passing game was not moving the chains, then running back Jeffrey Collins '17 and his offensive line were pounding the ball between the tackles.
The offensive and defensive lines stepped up in a big way as well. "At first I wasn't sure how they would do, but they worked well with each other and played as a unit," said Head Coach Frank Sullivan P'20, '23. "They didn't make every play, but they always gave the other team plenty to handle."
Many of the players agreed with their head coach. Middle linebacker and co-captain Alex Blell '17, a.k.a. "The Sheriff," commented, "They exceeded my expectations… but our whole team was like that. We had a genuine belief in ourselves and our abilities." Blell continued, "We worked hard every day and always tried to get better. We pushed each other by creating matchups in our drills that benefited both guys. We were all about constant improvement and being a better player than we were the day before."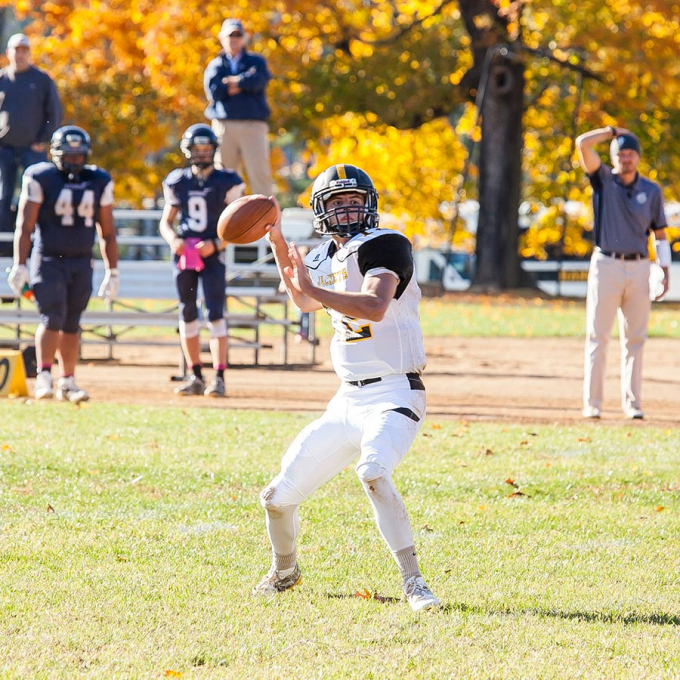 The mental improvement of his team was important to Sullivan. "They've always been athletic kids, but they stepped up as leaders and conducted themselves in a positive way," said Sullivan. "It is nice to see the other team arguing amongst themselves in a close game while our guys are playing with an attitude that says, 'We've got this.'" Outside linebacker Nkeng Morfaw '17 elaborated on this type of attitude by saying, "We made it a point to be able to bounce back. It didn't matter if there were 20 minutes or two minutes left on the clock, we were always in it." Cornerback Austin Davis '17 added, "We always tried our best to play the next down and to play it as a team."
The highlight of the season, for the majority of the players, was the St. Anne's-Belfield (STAB) game. "That game was huge," said free safety Joe Leichenring '17. "It gave us a lot of momentum for the rest of our season and a lot of confidence after a tough loss to Potomac." It was a come-from-behind victory that left STAB stunned on their own field, and it meant the world to some players. "That was an incredible feeling," said Davis. "I have never been a part of something like that. It was special."
This Yellow Jacket football team had that "it factor" whenever they took the field. They surprised a lot of folks with a confidence and swagger that most of their opponents could not match. They played with a resilience and tenacity that kept the opposition on their toes and, eventually, on their heels. The most admirable part of this team was their never-say-die attitude. Every second was played with the belief that they could do something, at any moment, to win the game. Even when it seemed as if nothing could go right for them, they put it on themselves to do the work and make it a ball game.