On October 17, 2015, a group of students participated in what is believed to be the first Rotary Youth Leadership Activity (RYLA) for middle school Interact students. The event took place at the Northern Virginia 4-H Educational Center in Front Royal, VA.
"I believe this was a historic event," observed Michael Williams, the Director of Student Life at Randolph-Macon Academy and the R-MA Middle School Interact Advisor. "I say 'historic,' because I can find no other instance in my exhaustive research, where any 'Middle School' RYLA has taken place in our area, district, zone, or world."
Part of the reason for that is that middle school-level Interact clubs are a relatively new concept—so new, that there are only two in the entire Rotary District 7570, which goes from Winchester, down the I-81 corridor, to Johnson City, Tennessee. Those two are located at Randolph-Macon Academy Middle School and Warren County Middle School.
The Randolph-Macon Academy Middle School Interact Club (celebrating its five-year anniversary this year), chartered in 2011 by then The Rotary Club of Linden (now The Rotary Club of Warren County) was the host school of the event, and
had 22 students participate. The Warren County Middle School Interact Club, sponsored by The Rotary Club of Front Royal, VA, participated as well, with about a half-dozen students joining in at various points during the day.
The Middle School RYLA started on Friday (October 16th), at the weekly meeting of the Randolph-Macon Academy Middle School Interact Club, where R-MA Middle School eighth grader and Interact student Katherine Babineau spoke to her fellow students about her ongoing battle with juvenile diabetes. On Saturday morning, the R-MA and Warren County Middle School Interact Clubs joined together for the annual Juvenile Diabetes Research Foundation Walk, which was sponsored by the Rotary Club of Front Royal and spearheaded by Front Royal Rotarian Carol Dodson and her daughter Rachel, a graduate of Randolph-Macon Academy. The event raised over $20,000.00 for Juvenile Diabetes Research.
"I was very happy with the turnout of how many people were at the walk," said Babineau. "I was in tears because so many people showed up."
After this event, students gobbled down Chick-Fil-A sandwiches and headed to the Northern Virginia 4-H Educational Center, where "True Colors" Founder and CEO Mr. Bob Meadows led his widely sought-out and respected "True Colors" presentation. This was well-received by the students, to include R-MA Middle School Interact Club Sergeant-at-Arms Alan Williams, an eighth grade student at the Academy. He stated, "I really enjoyed the True Colors presentation. It was interesting to see what color I fell into, given how many of my classmates thought I would have been a different color. I hope that we can get Mr. Meadows to come back again next year."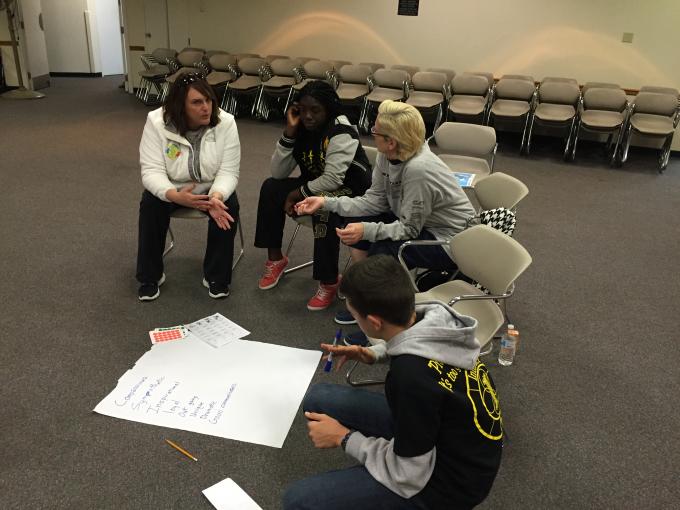 Beth Iden of The Liberian Orphanage Educational Project ended the day (and the first known Middle School RYLA) with a presentation about her and her husband's tireless efforts to bring education, health and comfort to the children of Liberia, who have struggled with so much civil unrest over the past several years. This unrest has left many children without families and often without basic human needs.
Halima Salami, a seventh grade student at R-MA Middle School, said Iden's presentation had a big impact on her. "It's sad how many people died," she said. She was inspired that an organization such as this was working so hard to bring hope to families.
"It was comforting to hear the questions of the children, when time allowed, which further showed how an event like this can not only bring attention to the needs of humanity, but allow us to witness, first hand, the amazing promise of our future Rotarians," said Williams.