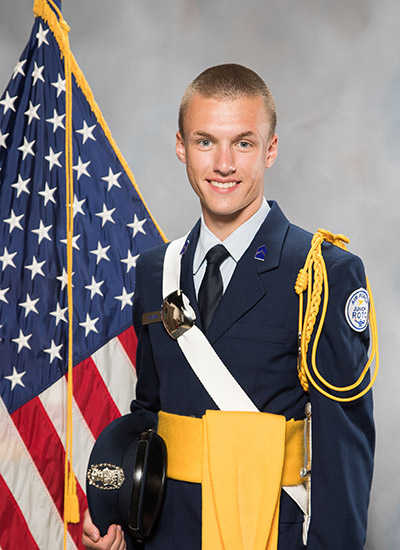 Randolph-Macon Academy Falcon Scholar Jake Hannas has finally reignited his passion for flying, and as a result, the 18-year-old took to the skies alone on Wednesday, April 17, 2019, in an important step on his way to his private pilot certification.
It was not the first time this young man had flown solo. A member of Civil Air Patrol, he had participated in an intense ten-day flight program two years ago, soloing on the final day. Whereas a normal solo flight consists of two to three take-offs and landings, his first solo consisted of one. His ambition to attend the U.S. Air Force Academy and become a pilot caused flying to get pushed to the back seat a bit as he focused on his academics. While he did not get into the U.S. Air Force Academy last spring, he was offered a Falcon Foundation Scholarship to attend one of five prep schools in the U.S. where he could continue to work on his fitness levels, academics, and SAT scores. Seeing the flight program at Randolph-Macon Academy, Jake quickly made his choice.
Once his re-application to the Air Force Academy was completed in the fall and the first semester at R-MA was completed, Jake began flying again. Although he had approximately 20 hours of powered flight under his belt, along with seven glider hours, Jake found that while he was rusty, it came back quickly. "Those hours were probably the equivalent of a five or ten-hour bump," he commented. "It didn't help as much as I thought it would because I hadn't flown in so long."
By the time he had soloed for the second time on April 17th, Jake said, "I felt completely prepared. I've had over 100 landings, and with half of them in the last two months, it's starting to become muscle memory. And Mr. [Marc] Kramer did a really great job of preparing me."
Jake says his passion for airplanes began when he was about three years old, according to his parents. As time went on, he became more and more interested in both flight and the military, until that morphed into a desire to attend the U.S. Air Force Academy. He joined Civil Air Patrol as a stepping stone towards that goal–along with the incentive of receiving five free glider and Cessna flights, as well as scholarship opportunities. In fact, he hasn't paid for any of his flight training, which he values at over $10,000, because of the generosity of CAP.
While Jake has always wanted to be a fighter pilot, those dreams have shifted over the years and he is now considering helicopter piloting, as he has discovered he loves flying at the low altitudes and using landmarks and maps to mark his route. At the Air Force Academy–to which he has received an appointment–he plans to focus on soaring (flying gliders), which he calls the "natural, raw form of flying because you're limited to whatever the environment gives you." He hopes to compete in the soaring program at the Academy in aerobatics or cross country, and possibly become an instructor for underclassmen.
Regardless of whether it is in a glider, a plane, or a helicopter, in the military or as a civilian, one thing is clear: Jake Hannas will spend his life in the air.