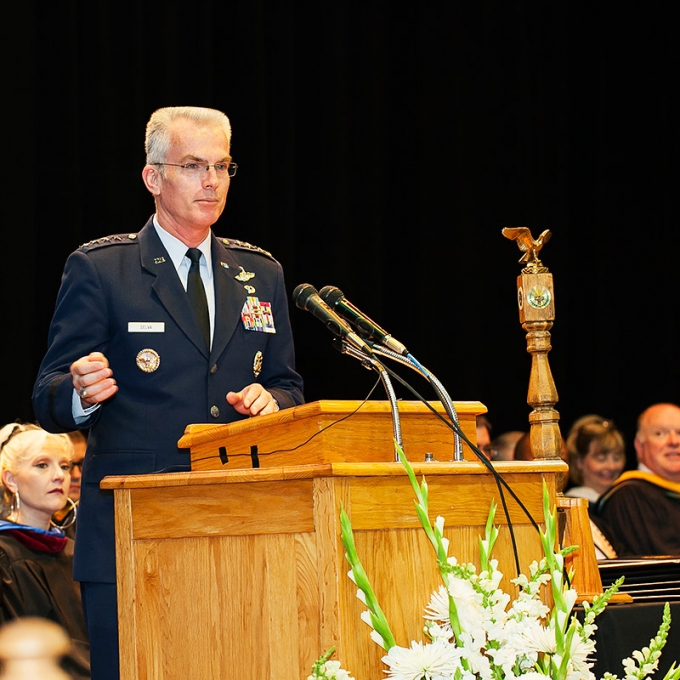 The 70 seniors and five Falcon Scholars of Randolph-Macon Academy's class of 2016 walked across the Melton Gymnasium stage at graduation on Saturday, May 28, 2016, knowing that their 249 college acceptances to 149 different colleges prove that they are ready for life after high school.
Linden resident Meghan Melberg was the valedictorian and the only student speaker at the ceremony. Melberg declined to give her fellow graduates advice, saying she was not qualified to do so because "grades do not equate to life experiences." "What I do know is that what happens after today will be different for each and every one of us," she said. "It will be up to us individually to navigate our own lives and find our own paths in the world."
Melberg thanked her teachers for their role in her life. "In my opinion, one of the best aspects of this school is the teachers," she said. "They are wonderful mentors and instructors and I owe a lot of my success to them."
Although she didn't offer her fellow graduates advice, Melberg did offer some wise parting words. "We will be facing many uncertainties in both the immediate and distant future. However, uncertainties are just opportunities in disguise. It is now up to you to navigate these opportunities."
The guest speaker for the Academy's 124th commencement ceremony was Gen Paul Selva, Vice Chairman of the Joint Chiefs of Staff, whose message so closely echoed Melberg's that it almost seemed they had planned it.
Selva told the graduates, "John Quincy Adams said, 'If your actions inspire others to dream more, to learn more, to do more, to become more, you are a leader.' I have no doubt that whatever the future holds for all of you, you have those attributes. You will help people dream more, and learn more, and do more because of your experience here, because you have built knowledge, leadership and character into who you are. That wasn't imposed upon you, you chose that path. That's mandatory, it is the path you chose. It is a path that will shape the rest of your life."
Like Meghan, Selva stated that he had no advice for the graduates. He did, however, have a few favors to ask of the graduates. "I'm going to ask you to be positive," he said. "Whatever challenge you face, whatever the next step is in your life, whatever the next chapter is, what you learned about leadership and character here probably included that request. Be positive. Bring your energy and your knowledge and your leadership to whatever it is you choose to do. Never let an opportunity slip past you. You're going to serve wherever you land. Whether you wear the cloth of the nation, the scrubs of a doctor, the garb of a pastor, the suit of a lawyer, the khakis and polos of most professionals today, you are going to do amazing things. I have faith in that."
Randolph-Macon Academy (R-MA), founded in 1892, is a college-preparatory, coeducational boarding school for students in grades 6 through 12. Students in grades 9-12 participate in R-MA's 91st Air Force Junior Reserve Officer Training Corps (JROTC), and have the opportunity to fly in a unique flight program. R-MA is affiliated with the United Methodist Church and is located in Front Royal, VA.