After years of declining the opportunity to be a part of an Honor Flight, Dr. Robert DeGise '44 finally decided that it was time to accept the invitation. It was time to go and visit the memorials in Washington D.C., especially the Marine Memorial known as Iwo Jima. For DeGise, however, it wasn't enough to visit the memorials and recall the comrades he had lost. He was determined to honor his fallen friends.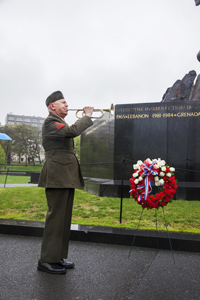 DeGise enlisted in the Marine Corps in January of 1943 with a simple goal. "I wanted to serve my country more than anything else," he said. He was granted a waiver to allow him to finish his education at Randolph-Macon Academy, and two weeks after he graduated, he left for boot camp on Parris Island, South Carolina. The timing of his training was such that he completed it in time to be part of the assault on Iwo Jima on February 19, 1945.
"I almost didn't make it off that island alive," he told the Peoria Journal Star. "Twenty-five thousand casualties, six thousand dead. That was a brutal, brutal operation."
DeGise recalled the foxhole collapsing on top of him. Someone eventually pulled him out, but initially he was counted among the dead—in fact, a Catholic priest performed the sacrament of the Last Rites on DeGise. "That was scary," he admitted in his interview with the Peoria Journal Star. "They finally took me to an aid station on the beach, where they then sent me out to a hospital ship… I remember I got up on one elbow and I looked up, and there was Old Glory. I thought, 'Our boys did it. They captured Mount Suribachi.'"
It was in honor of that memory and all those who were killed in the assault that DeGise not only accepted the invitation to go on the Honor Flight, but asked to be allowed to play "Taps" at the Iwo Jima memorial. His request was accepted and the ceremony was scheduled for April 29, 2014. After months of waiting, he awoke in the wee hours of the morning in Illinois, flew to DC with the rest of the Honor Flight, waited patiently for a convoy of busses that initially went to the wrong airport, and finally began the tour of the memorials on a cold, rainy day. None of those challenges dampened his eagerness to fulfill the duty he had assigned himself.
At 3:45 in the afternoon, the group arrived at the Iwo Jima/Marine Memorial. Shivering, a bit anxious, but above all determined to perform his tribute to his fallen friends, DeGise circled the memorial once, greeting family and representatives from R-MA as he walked. The other Honor Flight members gathered in anticipation of the short ceremony about to be performed. The names of Peoria natives who had died at Iwo Jima were read off. The rain fell harder, and Old Glory waved wildly above. Finally, with eyes full of emotion and memories, DeGise, garbed in his Marine Corps uniform, approached the memorial and offered a salute, then gave a half-turn and proceeded to play "Taps."
It was a moment of connection. For a moment all those gathered were connected to each other and to those who had gone before. It was a moment of ultimate honor and respect. For all those gathered, it was a moment that would never be forgotten.